Business Development and Product Design
In any business organization, there will eventually be the need to address a growing problem, and how this is done will largely depend on the nature of the problem at hand and the solution that is proposed to solve said problem. We can all agree that there are several ways to get a task done, but the ideal solution should be simple and efficient in its approach with the broadest possible appeal.
Our daily lives have been improved by technology, which also gives almost everyone the ability to come up with a solution to any issue they choose.
Let's say you've got an idea and this idea solves a particular problem. You are convinced of its effectiveness; maybe it has helped a few of your friends too.
But you then decide that it may help others as well.
This leads to you thinking about how to scale up and reach out to others. Depending on the target and the coverage, there would be a lot of phases that would contribute to the feasibility of scaling the solution. This is the beginning of your business development, should you want to commercialize your idea for profits when people make use of the proposed solution.
Challenges Faced by Startups amidst Product Design and Decision-Making Process
Pioneering a business is no small feat. You can ask any successful startup founder for first-hand information about the ever-changing world of startups.
The myriad of challenges faced by startups is variable to circumstances, and new challenges keep emerging every year. There are over 150 million startups and every new year, over 50 million join the pool. Maybe you are next, and you have found yourself in a dilemma, and you're looking for a way out.
Not to worry! In this article, I will be sharing a hand-picked selection of the most common challenges faced by startup founders and how they can be easily avoided or eliminated early in the process, through powerful data collection and analysis.
1. Fierce Competition
The market is saturated with a lot of competition, and it can be hard coming into the industry even if you have a shiny and new product.
It will take a while for you to eventually settle in with the crowd if you have a solid foundation. In the corporate world, the giants in the industry are betting on corporate takeovers of the smaller ones to avert competition.
The competition is so fierce that a startup will need to be on its toes to survive the harsh conditions of putting itself out there on the internet, having to use both traditional marketing means and social media to gain some recognition in a world where businesses are thriving and customers are less than adequately informed.
There is no room for dull moments or errors in this game.
2. Unrealistic Expectations
Becoming a startup founder means a lot of things, including the ability to set and achieve goals and having an overall vision.
However, it is so easy to get caught in the first waves of success, forgetting the consequences that come with it.
Most importantly, consistency is what truly matters, and this is directly proportional to the availability of resources and market demands.
Startups often set unrealistic expectations and put themselves into a situation where they over-promise and then under-deliver, giving them a bad score in the game of who is to be trusted. If this tendency is not brought under control, it might weaken their negotiation power in the future.
It is similar to situations where coding boot camps promise their students a job after 6 months at a tech giant company, and eventually, that turns out to be an empty promise.
3. Time Management
How would it feel to work tirelessly for a whole year, only to realize that the most important things you spent your time on weren't really relevant to your audience's needs and wants?
That is a lot of wasted time, effort, and resources, even though you may have thought otherwise.
Often, people are not pleased by fancy-sounding products; all they truly want is a solution to their problems.
As a startup, there is almost never enough time and so many things are on your to-do list.
This is why proper time management is very crucial to every startup. If you cannot set your priorities right early on, then you will be building a very weak foundation, and oftentimes, either doing the wrong things or overdoing the right things.
4. Lack of Planning
We have seen first-hand what lack of planning can do to a startup from different industries.
Most startups like to rush things over just to accelerate the process to the point where they maybe have a POC (Proof of Concept) to pitch to investors, or maybe get funding or recognition.
All of those things are great and necessary at some point, but without proper planning, you might suffer a lot of unforeseen challenges including the worst case scenario of your startup closing down.
Many startups never see the proper light of day because they have a bad planning schedule and some start and abruptly come to a halt because they rush in too zealously, forgetting to take care of the little things that matter. And when those little things accumulate, they become a big problem, and the project has to stop.
5. Prioritizing sales and marketing last
When pioneering a startup, founders usually tend to prioritize marketing last; this, however, is not effective at all most of the time.
Many startups are of the mindset that the quality of the product or service they are offering will speak for itself and feel little need to invest in a sales or marketing team. They imagine that as soon as the product and the benefit it will provide are announced, the public will be automatically compelled to engage with it.
Unfortunately, this is not always going to work out for you.
We will discuss this in greater detail later in this article, as well as how to solve this problem.
The competition analysis and distinguishing factors for establishing an effective marketing strategy
Critically thinking about your competitors will reveal to you a lot of details that will amplify your marketing efforts. But at the same time, there is a better way to go about this.
Considering the rate at which new businesses are being established and new tools are coming out every day, even with the best team, you will still need a lot of time, resources, and research to properly analyze the competition in whatever industry your business falls into. This can be mentally and physically exhausting.
There are a lot of strategies that startups can adopt to facilitate this process seamlessly, but amongst all, data is still king. Thanks to the multiple sources of information out there on the internet, data is now the next big thing for the tech industry, and will empower businesses and startups by putting them ahead of the competition if they know how to take advantage of it.
Where is this data you may ask? It is indeed a good question, and the simple answer is that data is everywhere.
Even this article you are reading can be considered a block of data.
How you collect this data might also be a reasonable follow-up question. To collect data, you need to be able to write code in a language like Python or JavaScript, and you will probably need to develop web crawlers or scrapers to fetch this data for you and make sense of it through structured analysis.
But considering the enormous amount of work that is involved in collecting this data, storing it, processing it and analyzing the data for presentation, continued access and so much more, it might not be the right investment decision for you right now as a startup.
However, imagine if you didn't have to go through so much trouble to get your hands on this data that is so crucial for your startup's success.
Yes, it is indeed possible and this is where Bright Data comes to the rescue.
What's more interesting is that it provides a whole bunch of additional services that are also likely to be useful for your business development needs.
And you don't even have to hire a programmer to use this service; even the average layman can be trained to use it, because it is as simple as choosing a template and customizing it to your needs.
And if you need more custom requirements, you can request for it from the Bright Data team, and help will be on its way in no time.
A Simple 3-Step Process to Meet Your Marketing Needs
Anyone can follow these extremely straightforward and simple steps. These are not hard-and-fast rules, neither should it be the only effort from your end but it is surely one of the best approaches to improve your startup's chances of success.
Step 1:
Collect unlimited data about your competitors using Bright Data's service from all over the internet.
Step 2:
Analyze competitors' data for actionable insights from Bright Data's real-time data reports.
Step 3:
Implement your effective marketing strategies by avoiding the weakness you find in your competitor's services and products.
In short, web data collection is the most effective way to develop effective marketing strategies for your startup; because this data will help you make informed decisions and avoid a lot of mistakes in the early stages.
How data can drastically help companies make informed decisions earlier in the process
Every hacker observes a five-step process before an attack is implemented. First is reconnaissance, then scanning, then gaining access, then maintaining access, and finally covering tracks.
How does this relate to your startup, you may ask?
This is true for your startup in the sense that you would need to get the required information you need before you rush into building a startup that may simply crash and burn.
It is helpful to be informed about the trends of the industry you are involved in. Also, during your business, you need to maintain your brand and the quality of the services that you offer.
Finally, you would need to learn how to close up on the best approach and repeat the process for what works best through trial and error, closing up on a single solution that is unique to your startup. In this game, data is your friend and you need to learn how to lead the way with data as an ally to your startup.
What is Bright Data?
Bright Data is the world's leading web data platform, and its services include data collection infrastructures and ready-made datasets.
You can collect, access and retrieve the data that you require. Bright Data also provides powerful insights that help your startup tap into a growth lane backed by advanced artificial intelligence engines.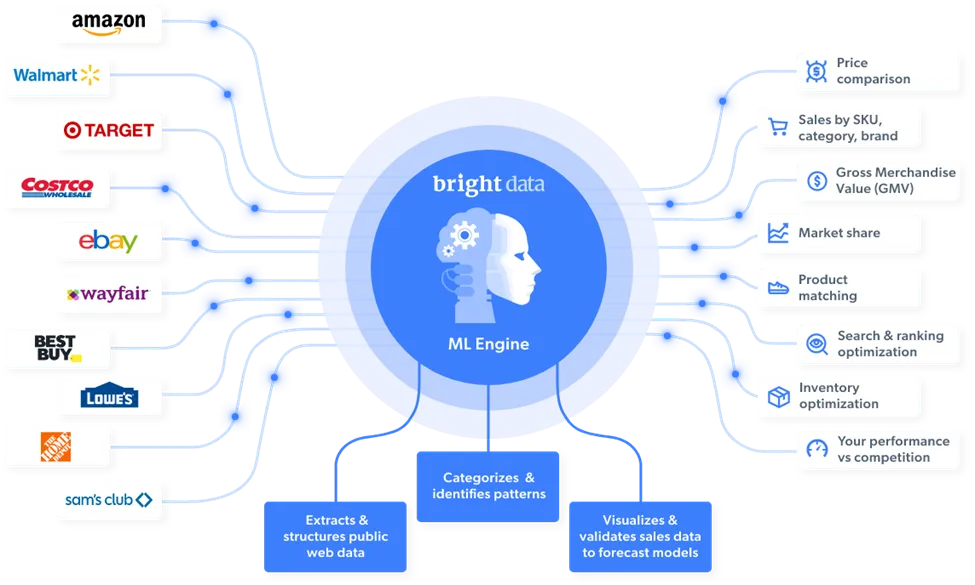 Web data can accelerate your product ideation process, by comparing options quickly and with the whole market. If you need to utilize Bright Data services, you will need to follow these steps:
1. Register an account with Bright Data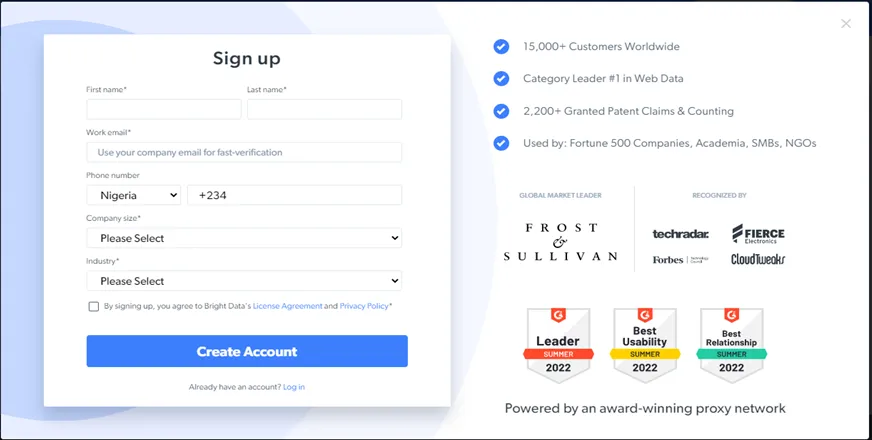 2. Select the services that best fit your needs; the available options are web data collection, proxies, API integrations, etc.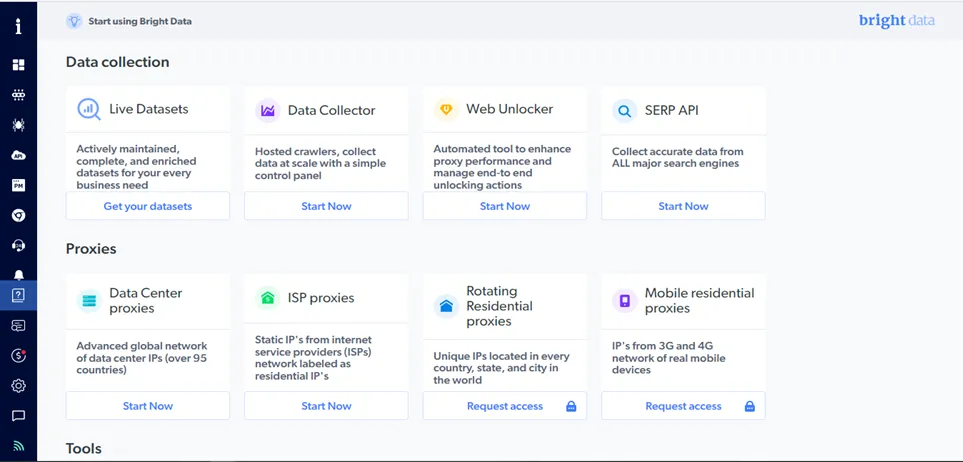 The quickest way to start using Bright Data services as a startup is by exploring the repository of ready-made datasets and templates for common use cases of web data collected over the years from multiple sources.
These have been built with production performance, scalability and efficiency in mind.
You can click this link to access the dataset page and explore the categories available: https://brightdata.com/products/datasets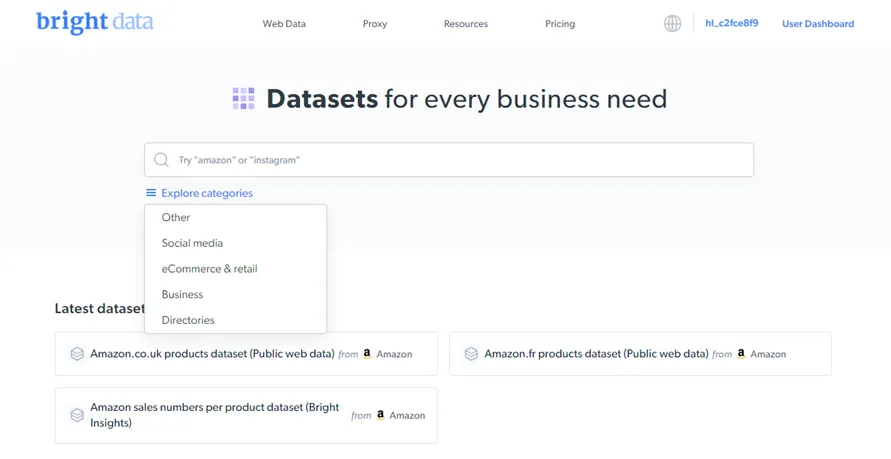 However, if you have more requirements for your startup and you can't find the desired dataset, you can request a custom or managed collector through your dashboard or you can reach out to the team through the various communication media platforms.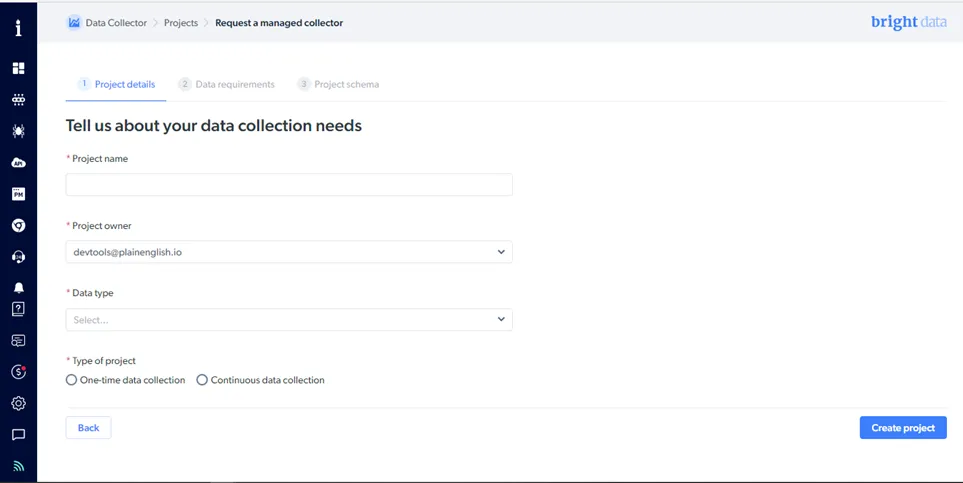 There is documentation and a knowledge base for everything that you can do on your Bright Data dashboard and for every product and service that are available.
So you can always teach yourself or train your team to utilize the service that is particularly relevant to your startup.
TL;DR
By using creative data reporting and analysis to inform your ideation processes and implementing innovative marketing strategies that increase conversions for your enterprises, you can significantly shorten the time spent behind the marketing process.
Quick Links