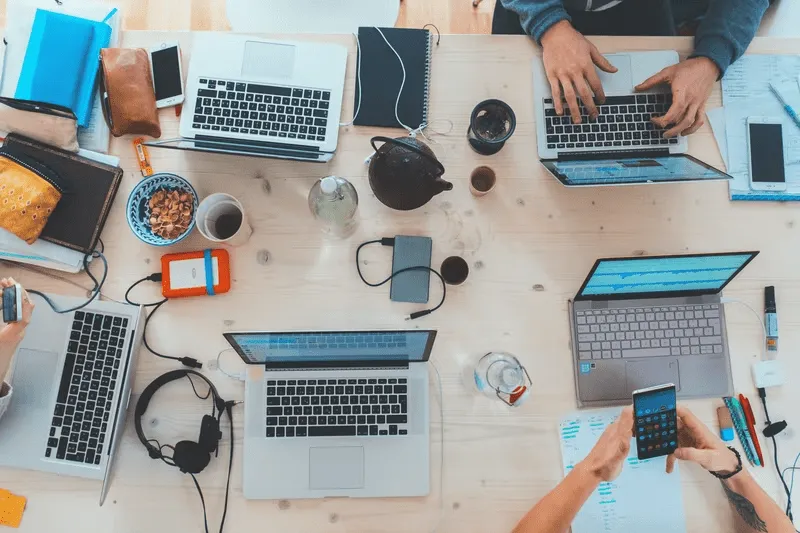 If there is one thing that all businesses are looking to do, it is take their productivity levels to new heights. This is certainly the case for companies that often find themselves working on a diverse range of projects at any one given moment.
One of the ways that you can achieve higher levels of productivity is by leveraging Software-as-a-Service, which can help you to automate tasks. However, it's not a case of downloading any old tool - you need to make sure it fits in with your business seamlessly.
With that being said, in this blog post, we are going to reveal more about 10 of the best SaaS tools to bust your company's productivity.
1. Invgate
If you check out Zluri's list of top IT management tools, you will see that Invgate comes out at the top. We certainly agree, and it is not hard to see why.
Invgate Service is a web-based ITSM platform, with ITSM standing for Information Technology Service Management. Therefore, it is a great choice for anyone who wants to automate IT services effectively.
Invgate has the ability to accommodate complicated ITSM workflow managing incidents and service requests via its simple and efficient ticketing system. There are both on-premise and cloud versions available.
You can expect effective email and call center management, a self-service portal, knowledge base management, multi-department support, a service catalog, and the solution is ITIL certified.
2. Xero
Another solution that we recommend highly is Xero, which is a cloud-based online accounting tool that makes your business' payroll workflow and accounting as simple as possible. It is perfect for both medium and small-sized companies.
It enables you to create invoices, manage expense claims, pay bills, and manage payroll, as well as handle other accounting tasks.
You can also set up a dedicated bank feed by connecting your bank account to Xero, meaning you can manage and monitor your transactions easily.
3. HelloSign
HelloSign is a SaaS tool that enables you to request legally binding signatures and add them to various contracts and documents.
You can use this solution when putting together agreements for clients or freelancers, signing contracts, hiring remote employees, onboarding, and so on. With HelloSign, you do not have the hassle of having to get physical signatures, requesting people to scan contracts, and so on. Instead, the process is a lot quicker.
Other benefits include that multiple languages are supported, cloud storage facilities are included, and you can generate document templates for frequently used documents and contracts, for instance, hiring contractors.
4. ProofHub
Another tool that can really enhance the productivity rates at your business is ProofHub. This is a collaboration and project management tool for companies all around the world.
With this solution, team managers can track a number of projects with ease, get time estimates for project completion from team members, and use Gantt and Kanban charts for project management and tracking.
It is a great, all-purpose tool, and there is no steep learning curve involved, which can often beleaguer other project management solutions.
One of the best things about ProofHub is that it eliminates the need for lengthy email threads thanks to the collaboration and discussion feature. Plus, you can avoid scheduling confusion thanks to the in-built calendar.
5. Calendly
Speaking of calendars, it seems appropriate to move onto Calendly, which is an intuitive and simple scheduling tool that ensures coordinating and scheduling meetings is made as easy as possible.
A lot of businesses can find calendar management to be a big hassle. However, you do not have to worry about cross-checking or going back and forward with emails if you use Calendly. Instead, your online calendar can do all of the hard work for you.
There are a number of great features that make this SaaS calendar tool stand out from the rest. You can set automatic reminders and follow-ups using the workflow feature. Plus, it is possible to take payments at the time of booking using Stripe and PayPal integrations.
Importantly, you can also connect all of your calendars in one place to ensure you never have the embarrassment of double-booking.
6. HubStaff
Next, we have HubStaff, which is a workforce management tool that is especially beneficial for businesses working with freelance employees and remote teams.
HubStaff gives you the ability to get in-depth performance reports for everyone working for your business, monitor employee productivity, and manage timesheets.
Although it is mainly directed toward freelancers and remote teams, it is also extremely beneficial when it comes to bigger in-office teams and simplifying employee management.
There are a number of great features to expect. This includes automatic payroll management features, and periodical analytics and reports on employee productivity and performance. You can also make the most of project management tools, to-do lists, URL tracking, screenshots, and mouse tracking activity, as well as other productivity monitoring and time-tracking features.
If you decide to opt for this tool, there is a free version available, yet the features are very limited, so do keep this in mind.
7. Jira
Next, we have Kira, which is a project management solution that enables software development teams to effectively plan, manage, and release software projects.
If you run an agile team, this is definitely one of the better options to consider. You can use it for planning projects, managing the full length and breadth of your development and release process, assigning tasks, and much more.
When you consider this, it is not hard to see why so many SaaS businesses especially depend on Jira for reliable and effective software development and maintenance tools for their company.
Some of the features you can expect include rich APIs and developer tool integrations, agile reporting for real-team insights into the performance of your team, and customizable workflows so you can adapt to various team working styles.
Finally, road maps and Kanban boards enable you to see the big picture while scrum boards provide efficient management for complex projects.
8. Planable
Planable is a collaboration solution for content creators and marketers that makes the content planning process a lot easier. You will essentially have a command center for all of your social media campaigns that enable your marketing teams to collaborate efficiently.
With this SaaS tool, social media marketing teams are able to easily create content, plan it, approve it, review it, and publish it, ensuring everything goes smoothly and seamlessly.
Some of the features include numerous viewing options, collaboration features like internal notes and commenting, a content calendar with drag and drop mechanisms so you can schedule assignments with ease, and the ability to create and preview posts for different social media channels, all in one place.
9. Visme
Visme is an intuitive and simple visual content creation solution, which enables companies to create presentations, videos, infographics, charts, and more. You can also edit and share them with ease.
Operating with a DIY approach, you have the ability to generate visual content for your brand or the brand you're working on, even if you do not have a lot of design knowledge. It is a beneficial tool for simplifying your marketing and reducing costs.
There are a lot of features to love when it comes to Visme. This includes exceptional collaboration features, including integrations with Slack and commenting options. You also have an extensive gallery of templates that make design easy, even if you have no experience in this area.
Aside from this, you can enjoy animation features and the interface is easy to use. Simply drag and drop to create interactive and engaging visual content, including videos, infographics, and charts.
10. Whatagraph
Last but not least, we have Whatagraph, which is a comprehensive tool designed for marketers to be able to track the performance of their campaigns with ease. You can consolidate reports, as well as garner individual insights into how each individual campaign is performing.
Whatagraph is especially beneficial for marketing and PR agencies that handle a number of different campaigns for multiple clients. It makes the workflow a lot simpler, ensuring your clients are happy and kept up to date with the progress of their campaigns.
Some of the features you can enjoy include pre-designed templates for reports and customer-branded reports. You can also add custom data to your reports via public API integrations and Google Sheets.
You can also enjoy automated reported delivery at customizable frequencies, as well as cross-channel reporting. The latter gives you the ability to put together a consolidated performance report for various marketing metrics and channels in one place.
Summary: Higher levels of productivity can be yours
As you can see, there are a number of great tools on the market that can help you to achieve higher levels of productivity. When choosing the right software for you, it is simply about understanding the sort of tasks that your business is going to be doing on a regular basis and finding something that matches in with this.