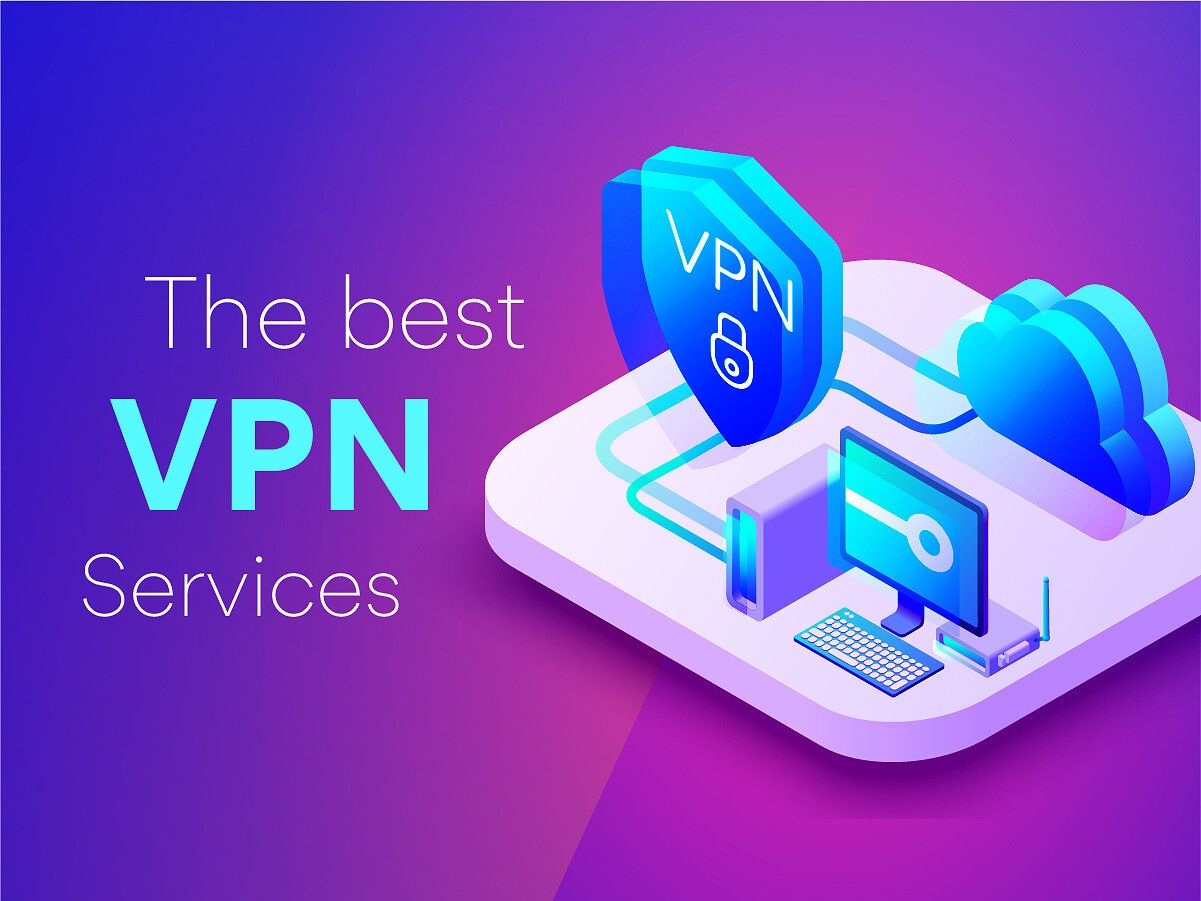 In today's digital landscape, safeguarding your privacy has become paramount. The top-notch VPN of 2023 emerges as an impeccable tool in upholding your online security. To this end, our team of experts rigorously assessed numerous VPN options, and we present you with a thoughtfully curated list of the most outstanding providers.
Imagine this: the online realm, where you navigate discreetly, shielded from the prying eyes. Enter Virtual Private Networks (VPNs), intricate applications that function as a shield between you and your Internet Service Provider, governmental entities, and potential cyber threats. In essence, these VPNs employ complex encryption to cloak your online traffic, directing it through their own global servers, thereby concealing your true digital whereabouts.
VPNs showcase their capabilities when it comes to unlocking a realm of diverse entertainment, including popular streaming services like Netflix, Hulu, HBOMax, and Amazon. Imagine a scenario: you're looking to access to streaming platforms that appear enticingly out of reach due to geographical constraints. Enter VPNs, the ingenious key to overcoming this obstacle. By seamlessly rerouting your connection through servers positioned across the globe, these technological wonders empower you to virtually transport yourself to various corners of the world. Consequently, you gain the ability to relish cinematic treasures, captivating shows, and exhilarating sports events that were once confined to specific countries. With a VPN by your side, those virtual boundaries dissolve, ushering in a truly borderless and immersive entertainment experience.
Should you use a Free or Paid VPN?
Deciding whether to use a free or paid VPN depends on your specific needs and priorities. Let's break down the pros and cons of each option to help you make an informed choice:
Free VPNs:
Pros:
Cost-Free: As the name suggests, free VPNs don't require any payment, making them an attractive option for those on a tight budget.
Basic Protection: Free VPNs can offer some level of encryption and privacy, which might be sufficient for light browsing.
Exploration: They can be a good way to test out VPN services and understand how they work before committing to a paid option.
Simple Setup: Many free VPNs have user-friendly interfaces that are easy to set up.
Cons:
Limited Features: Free VPNs often come with limitations on data usage, server access, and features, which could impact your online experience.
Performance: Free VPNs might be slower due to overcrowded servers, affecting streaming, downloading, and browsing speeds.
Security Concerns: Some free VPNs might not prioritize your privacy and security, potentially logging your data or displaying ads.
Geographical Restrictions: Many free VPNs have a limited number of server locations, which could hinder access to certain content.
Paid VPNs:
Pros:
Enhanced Security: Paid VPNs generally offer stronger encryption, better privacy policies, and a more secure overall experience.
Speed and Performance: Paid VPNs usually have dedicated servers, resulting in faster speeds and better performance.
Server Locations: Paid VPNs often provide a wider range of server locations, enabling you to access content from different countries.
Unlimited Features: Paid VPNs typically offer unlimited data usage, simultaneous connections, and advanced features like split tunneling.
Customer Support: Paid services usually come with reliable customer support to assist you with any issues.
Cons:
Cost: The main drawback is the cost. Paid VPNs require a subscription fee, which might not fit everyone's budget.
Choosing Wisely: Not all paid VPNs are equal. Research is crucial to ensure you select a reputable and trustworthy provider.
Paid VPNs
1. NordVPN
NordVPN has embraced an all-inclusive approach to its VPN service, incorporating an array of features. From its inception, it has integrated functionalities like multi-hop connections and access to Tor over VPN, both of which remain uncommon among its competitors. In the relatively young landscape of VPNs, NordVPN has managed to establish itself as a seasoned contender, expanding its reach by acquiring other companies and introducing new products, alongside its continuous VPN enhancements.
NordVPN has consistently maintained a contemporary and cohesive design across all its platforms, while also demonstrating a willingness to evolve. It swiftly adopted the emerging WireGuard VPN protocol and RAM-only servers, setting a precedent in the field. However, these advancements come with a price tag, as NordVPN's subscription cost significantly exceeds the industry's average monthly rate.
NordVPN stands out for catering to a diverse audience. Privacy enthusiasts appreciate its assortment of exceptional tools. Those seeking access to streaming content benefit from NordVPN's extensive server array, along with the flexibility to choose specific server locations. Novice users will find it easy to start, and they might be enticed by NordVPN's expanding suite of supplementary services, encompassing encrypted storage and a password manager.
Pros
Multi-hop, split tunneling, and Tor connections
Superb design aesthetics
Traffic routing and file-sharing via Meshnet
Integrated antivirus features
Cons
Higher cost
Modest results in malware blocking
Limited utility of free Meshnet traffic routing
2. Surfshark
Surfshark is a relative newcomer to the scene, but hit the ground running with a slick product that iterated quickly to match the competition. While it doesn't have all the features of its competitors, it does offer multi-hop connections and supports the WireGuard protocol.
Its blue color scheme and higher-than-average monthly cost invites comparison to another blue VPN: NordVPN. That company recently purchased Surfshark VPN, but both continue to operate independently. Surfshark VPN has also expanded and now offers antivirus protection, at an additional cost.
Surfshark has a good collection of features, but its real value is that it places no limit on the number of devices you can use with a single subscription. Most VPNs limit you to just five. Large families, or just households with lots of devices, can protect everything with just one subscription.
Pros
Unlimited simultaneous connections
Large global server presence
Multi-hop and split tunneling tools
Intriguing potential in Surfshark Nexus
Cons
High monthly price
Some issues with IP rotator feature in testing
Privacy policy needs clarification
3. ExpressVPN
ExpressVPN recently redesigned its app, but it's not just a pretty thing to look at. ExpressVPN has a very large presence that stretches across 94 countries, and uses very few virtual servers in the process. While it has eschewed the new WireGuard VPN protocol, it instead uses its own technology called LightWay along with the open-source OpenVPN protocol.
With numerous server locations, ExpressVPN is an excellent choice for anyone living or traveling outside the US. Anyone keen on spoofing their location should be well served, too.
Pros
Large, diversely distributed fleet of servers
Strong privacy and security practices
Split tunneling
Stylish interface
Cons
Expensive
No multi-hop connections
Free VPNs
4. ProtonVPN
ProtonVPN stands out as our primary selection for both premium and free VPNs. The company imposes no data restrictions on free subscribers, granting them the freedom to use as much data as needed. Nevertheless, free accounts are limited to one simultaneous connection. Additionally, these accounts only grant access to servers in three countries: the Netherlands, Japan, and the United States. Remarkably, ProtonVPN distinguishes itself by allowing users to pick their preferred server, a feature not offered by all VPNs.
ProtonVPN boasts a solid reputation, in part thanks to the success of its sibling product, ProtonMail. Notably, ProtonVPN upholds robust privacy policies and supports them with transparent third-party audits.
With no data constraints, Proton VPN stands as the sole service capable of being a true, daily-use free VPN. However, the restricted server choices mean that optimal usage is within (or close to) the countries where the servers are available. Moreover, protection is extended to only one device at a time.
Pros
Outstanding free VPN subscription
Abundance of advanced privacy tools
Firm commitment to customer privacy
User-friendly and easily accessible client interface
Impressive results in speed tests
Cons
Somewhat clunky implementation on ChromeOS
5. TunnelBear
TunnelBear VPN might come across as playful and whimsical with its bear-themed interface, but it's not just for show. Beneath the surface, it maintains robust privacy policies, solidified through a series of annual third-party audits. Its global server accessibility makes it an excellent option for travelers and individuals seeking to alter their virtual location. Interestingly, TunnelBear VPN extends the luxury of unlimited simultaneous connections to both its paid and free users.
Nevertheless, one significant limitation for free subscribers stands out: a 500MB monthly data cap. There's a chance to earn an additional 1GB of data by promoting the company on social media, though this doesn't amount to much data overall.
Even with the 1GB bonus, TunnelBear VPN's data constraints for free subscriptions are most suitable for sporadic usage. It could work for watching a single show or during vacations. The ability for free users to choose from any servers makes it particularly valuable for those looking to disguise their location or travel overseas—provided, of course, that data usage remains modest.
Pros
Unlimited simultaneous connections
Strong privacy policies
Yearly independent audits
Welcoming and user-friendly design (with bears!)
Cons
No multi-hop connections
Split tunneling not universally available across all platforms
Data cap on free subscription
6. Bitdefender
Bitdefender VPNs operate under the hood with Hotspot Shield VPN's technology, but it simplifies some of the latter's complexities. Unlike Hotspot Shield VPN, Bitdefender doesn't throttle the bandwidth of free users or capitalize on its mobile apps. An appealing feature of Bitdefender Premium VPN is its ability to facilitate connections on up to 10 devices simultaneously.
However, using up your daily 200MB data allocation would happen swiftly if you max out your device count. This VPN confines free users to the closest server alone. It would be a welcomed step for the company to provide a third-party assessment of its service.
Given its server limitations, Bitdefender Premium VPN suits travelers well as it readily connects to the nearest server. However, it may not be the ideal choice for altering your virtual location. While the daily 200MB allowance is more generous compared to TunnelBear VPN, it's easy to exhaust if not used cautiously, making extensive streaming or hefty downloads a challenge.
Pros
Remarkably budget-friendly
Sleek and uncluttered design
Split-tunneling capability
Part of the comprehensive Bitdefender app ecosystem
Cons
Pricing structure can be perplexing
Privacy policy can be confusing
Limited additional privacy features
Test results show high latency