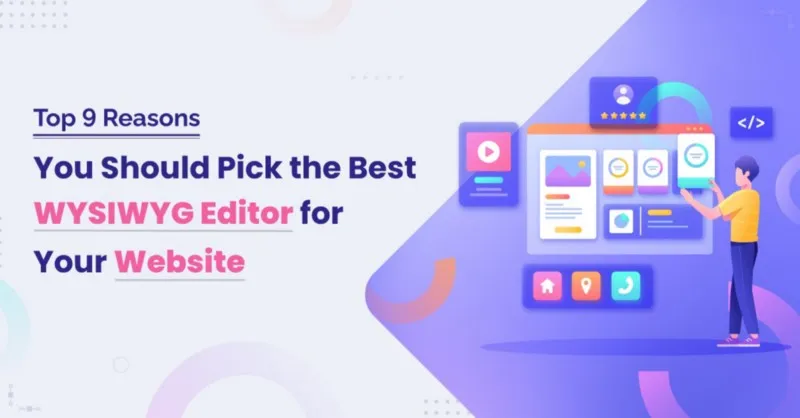 Web developers want bug-free code, content creators want an easy way to edit text, and SEO wizards want clean semantic markup for the website.
Did you ever wonder what the best tool is to overcome all these website building hurdles?
The best go-to solution for all is a rich-text WYSIWYG editor.
The cipher WYSIWYG stands for "What you see is what you get." The WYSIWYG HTML editors provide users with total control of the design publications, visual properties, and document elements and instantly visualize and allow trimming of the end result while working on the content. On top of that, you don't need to have any knowledge of programming language to perform these actions.
Keep reading to find out what WYSIWYG editors are and the top nine reasons why it's crucial to pick the best WYSIWYG HTML editor when it comes to building an intuitive website.
Let's dive in.
WYSIWYG Editor: Overview
WYSIWYG editors allow you to design sites without any special coding or designing skills so that you can stretch your imagination and experiment with themes, colors, and designs to create a unique web page in no time. Instead of navigating HTML tags or using a complex content management system, you can change the content (text or image) in the WYSIWYG editor itself with an easy-to-use toolbar and plugins. Moreover, you can directly drag and drop objects to their new positions to change the page layout.
Why Use a WYSIWYG Editor
If traditional editors leave you a little frustrated because they're short on features or confuse you because the interface is not intuitive enough, it would be worth exploring the benefits of WYSIWYG editors. Now, let's discuss why it is a cherry-picked choice for website development.
Easy to Use
Both newbies and experienced entrepreneurs can think totally in terms of how they want their work to appear on the website with WYSIWYG editors. One of the key advantages of this editor is that it makes digital production more accessible.
The intuitive design of a WYSIWYG editing platform allows users to:
Drag and drop different items across a website, such as videos, photos, and text blocks.
Change the fonts, colors, alignment, and layouts, and watch the changes take effect.
Improve the user experience by adding line breaks, spaces, and headings that effectively lead readers through the content.
These capabilities allow you to create professional-looking material in a matter of minutes with little or no technical knowledge.
Supports Search Engine Optimization (SEO)
Every piece of digital content aims to attract as many eyes as possible. SEO is the process of writing and designing content to improve its ranking on the search engine result page.
While multiple factors influence a site's ability to rank well in search engines, WYSIWYG tools help content creators ensure better outcomes.
The editor includes features that accommodate SEO best practices, such as:
Header tags to provide content structure for both readers and search engine bots.
Responsive page design software to adjust layouts for different screen sizes, including mobile devices.
Meta descriptions and image alt-text to raise click-through rate and provide a textual description of the image, respectively.
Quickly Update Content
Today, information flows quickly, and even the best content doesn't last long. A WYSIWYG editor helps you keep all of your materials up to date by allowing you to make changes on the fly. Visualizing the changes live on-site while working on it enables you to work more efficiently on your content.
It's easy to:
Place fresh information, such as a call to action (CTA) for a new product or campaign, where you want it.
Change the position or size of an image, video, or text box quickly.
Update old blogs' content to keep them current and improve their SEO position.
As your online presence expands, you can add more hyperlinks.
You can easily add new text and visuals to a predefined template like email newsletters or blog articles.
Get Creative Versatility
There's more versatility in what you create and how you get there with WYSIWYG editors. Anyone on your team can dynamically collaborate to crank out incredible web content. There's no room to compromise creativity regarding how things should look. That's because the WYSIWYG platform is evolving in tandem along with the digital ecosystem.
The editor can assist you in optimizing your content without requiring you to spend an entire day debugging a string of complex code.
WYSIWYG editor enables users to design page elements such as:
Enhancements to your design using animations
Dynamic text boxes and slideshows
Surveys and forms for submission
Reliable Consistency
It's far easier to spot a mistake in the WYSIWYG editor interface than disguised in code like HTML markup via CMS.
Further, it assists you in maintaining consistency in your content design, which is one of the most critical aspects of effective branding, while providing a decent user experience.
It helps you maintain content integrity by allowing you to:
Create a quick clone of a digital page to update the content while keeping the style.
Disable some editing capabilities to avoid tampering with branding components like font color, sizing, and background.
Maintain a consistent design for often-updated content like a blog or email newsletter.
Built-in Templates
WYSIWYG editors revolutionized digital-content creation by making it far more accessible. You can easily design outstanding marketing materials using a creative eye.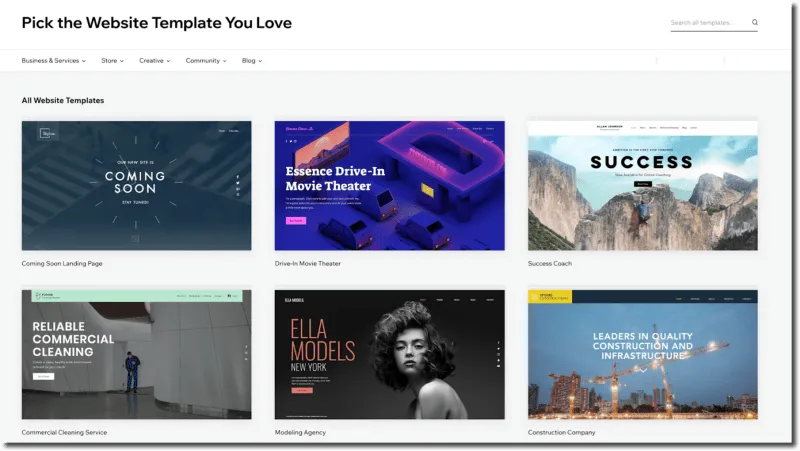 WYSIWYG platforms provide customers with ready-to-use intuitive templates to catch their audiences' attention. Great template alternatives are available to fit practically every purpose, whether you need a wireframe for a simple set of static landing pages, a complicated architecture site, or engaging email designs. Hence, you don't need to engage a web designer to create templates for your website.
You gain the following advantages by using predesigned templates:
Content navigation that prioritizes user experience and reduces the danger of broken connections
Simplicity in adding new content and not deviating from your theme.
Less time setting your design and more time creating content
Accessible Public APIs
A public Application Program Interface (API) allows programmers to perform, update, or expand the functionalities and features of the editor. For example, you can use the public API to read markup code stored in a file and convert it to HTML in a matter of seconds. This can be used for markup testing, allowing you to troubleshoot every bit of markup code without installing any tools.
Additional functionalities can be provided using advanced APIs that could allow users to:
Increase the number of HTML tags
Change the rendering of HTML tags
Add on output formats
Create a markup document using different sources
Advance Embedding & Editing
WYSIWYG HTML editors have built-in media embeds, allowing you to include photographs, GIFs, videos, podcasts, photos, and infographics in your content to make it more engaging for readers. You can, however, go much further. The advanced media-embedding feature lets you preview embeds from rich media sources such as Facebook, YouTube, SlideShare, and Spotify. As a result, it provides a better editing experience by representing the content more precisely.
It's also simple to play around with the editing elements to experiment with the layout and appearance of your page:
Color, pattern, and design for the background
Images, GIFs, and slideshows
Tables with custom rows and columns, blockquotes, and text boxes
Features and Functionalities
What makes WYSIWYG editors so popular is that they are easy to use. You can just imagine what you want to make and give it a practical reality with accessible toolbar functions over the interface.
The WYSIWYG landscape is evolving with the needs of the digital world. Many plugins provide additional capabilities to WYSIWYG editors, such as:
Integration of pop-ups, custom grids, and complex media
Seamless copying and pasting of your work from Word or Docs
Secured link verification
Automatic spell-check
Quick code clean-up behind the scenes
Fast webpage loading to attract more viewers
Wrap Up
WYSIWYG HTML editors have revolutionized the way websites are built. They've made it possible for more businesses to have an internet presence and have their brands seen by people worldwide. Hopefully, this article has helped you discover the top reasons you should go with a WYSIWYG HTML editor for faster and easier website development without relying on developers.
If you're seeking a full-featured WYSIWYG HTML editor to build complicated web pages with many elements and widgets, then Froala is the way to go. The JavaScript-derived WYSIWYG editor is simple, fast, and lightweight. The intuitive interface provides advanced rich text editing features and a plethora of customization possibilities.