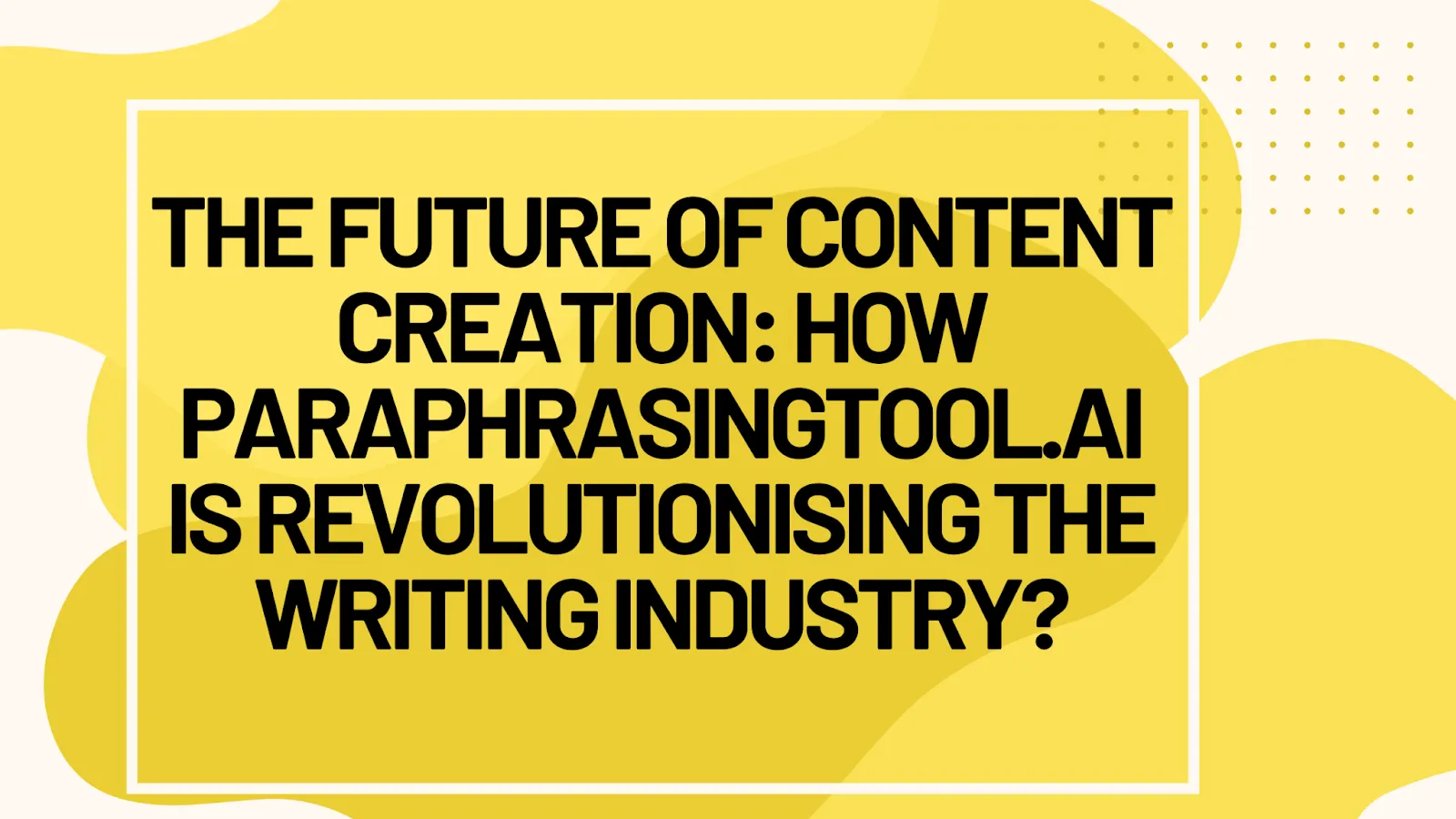 In today's digital age, content creation has become an essential component of any successful online business. With the proliferation of online platforms, businesses need to produce high-quality content to capture their audience's attention and drive engagement.
However, creating original, engaging content can be a time-consuming and challenging process. Consider AI-powered content creation tools - a revolutionary technology that has the potential to change the industry.
These tools use artificial intelligence and natural language processing to generate high-quality, unique content in a fraction of the time.
In this article, I'll walk you through the benefits of AI-powered content creation and take a closer look at one of the leading tools on the market - Paraphrasingtool.ai.
Let's delve straight into the article and see how it's changing the game for content creators.
The Benefits of AI-powered Content Creation
Artificial Intelligence has the potential to revolutionize content creation by offering a range of benefits. With AI-powered content creation tools, businesses can produce more content in less time, with greater accuracy and consistency.
Here are some of the proven ways AI-powered content creation can benefit the content writing industry:
Improved productivity
With AI-powered tools, content creators and writers can automate time-consuming tasks like research, data analysis, writing, and formatting, freeing up more time for strategic tasks like planning and ideation.
Quality assurance
AI-powered content creation tools can help ensure that content is high-quality, with features like grammar checker, plagiarism detectors, and content optimization.
Cost savings
By automating content creation processes, businesses can save on costs associated with hiring additional staff or outsourcing content creation.
In addition to these benefits, AI can also help improve language skills, SEO, and the personalization of content. AI-powered tools can analyze data to identify relevant keywords, phrases, and topics, and can suggest content tailored to specific audiences.
Simply put, AI-powered content creation helps businesses create more targeted, personalized content that resonates with their audience.
So, now you understand AI-powered is not coming slow to make content creation easier than ever before. You don't need to spend days and weeks on one writing project when you have an amazing AI tool at your disposal.
Paraphrasingtool.ai helps you create blog posts from scratch, fine-tune your written work through paraphrasing, detect plagiarism fast, and much more.
Curious about what this software is and whether it can live up to its claims? Head below to a comprehensive review of Paraphrasingtool.ai, where we'll explore all of its features and capabilities.
What is Paraphrasingtool.ai?
Let's start with the basics and cover what exactly Paraphrasingtool.ai is.
Paraphrasingtool.ai is a leading AI-powered content creation tool that uses artificial intelligence and natural language processing (NLP) to create high-quality, unique content in a fraction of the time.
The top-drawer feature of this tool is its Paraphrasing software which offers different paraphrasing modes to repurpose old content. It uses state-of-the-art technology to fully comprehend the text context and create something completely new out of it.
Not just that, Paraphrasingtool.ai has recently introduced a plethora of content-creation tools. Among its content creation tools, article generator, story generator, essay generator, and summary generator tend to be the most popular.
With a 5x faster writing speed, Paraphrasingtool.ai can generate entire blog posts and creative stories with just a topic input and keywords provided by the user.
The best thing about Paraphrasingtool.ai is that it not only focuses on AI content creation tools but also on verifying the quality of content. It offers a plagiarism checker, grammar checker, AI content detector, and AI content bypass tool to ensure users the quality and uniqueness of content.
How Does Paraphrasingtool.ai Works?
The Paraphrasingtool.ai interface is designed to be user-friendly, with a wide range of accessible tools.
Here we'll see how its AI article generator software generates a completed article, and how the process can be completed in just a matter of minutes.
Here's a breakdown of how its article generator works:
Choose the Article/Blog Generator
The first step after landing on the website is to go to the menu bar and click on "All Writing Tools".
Here you need to select the "Article Generator" tool to get started with Paraphrasingtool.ai to write content. This essentially allows Paraphrasingtool.ai to start writing a fully structured article from the introduction to the conclusion without any manual effort.
There are so many other tools available with the ability to create blog ideas, blog outlines, keyword research for clustering, and much more.
There are over 30 AI tools offered by Paraphrasingtool.ai to help content creators with their writing, with more to come in the future. This means you can use any AI tool for whatever task you need to be done.
Enter input information
To use Paraphrasingtool.ai's Article Generator, you first need to provide some essential information after selecting the tool.
Enter blog post title.
Sidenote: Don't have any decided blog title? Take help from Blog Post Idea Generator.
Enter keywords separated by commas.
In summary, you will be asked to enter a title, and some focused keywords about the topic of the article, and that's it.
Content Creation
Using the AI tool and the provided inputs, Paraphrasingtool.ai scours the web to generate high-quality content based on the selected topic.
The more information available on the web regarding the topic, the more comprehensive and complete the AI writing assistant's output will be.
As you edit the generated content in its AI editor, Paraphrasingtool.ai is capable of learning and adapting to improve the quality of future content.
What Makes Paraphrasingtool.ai's Article Generator Stand out?
Now you understand how to use Paraphrasingtool.ai to generate content, let's have a look at what makes this software stand out from other AI content-writing tools:
SEO-Optimized Blog Posts: If you know the target keywords that your audience is searching for, you can easily incorporate them into the original inputs for Paraphrasingtool.ai. This enables the software to naturally include those words, generate SEO-optimized blog posts, and boost the overall search engine ranking. This feature can also be helpful for overcoming writer's block.
Automatically Generated Heading Tags: Another unique feature of Paraphrasingtool.ai is that it automatically creates heading tags based on the content of the article. This helps to improve the organization and readability of the content, while also optimizing it for search engines.
Original and Unique Writing: Paraphrasingtool.ai uses advanced algorithms to ensure that the content it generates is both original and unique. The software is designed to avoid plagiarism and duplicate content, ensuring that the user gets high-quality, original content every time. You can check the content originality through its free plagiarism checker and AI content generator.
A Quick Tour of Other Paraphrasingtool.ai's Tools
When you first get started with Paraphrasingtool.ai, you'll see its Paraphrasing tool on the dashboard. Go to the menu bar and next select all writing tools! You'll see other AI writing tools in no time.
You can use any tool according to your specific needs.
There are dozens of AI writing tools, based on your specific content creation requirements. Have a look at them below:
Primary Writing Tools
AI tools for Students
For Bloggers
For Freelancers
For Copywriters
For Translation
Is Paraphrasingtool.ai Worth The Price?
Paraphrasingtool.ai offers the most affordable pricing plans. Both monthly and annual pricing plans are available to meet your specific needs.
Solo Text Generation Plan
With the Solo Text Generation Plan, you'll enjoy access to features such as Text Generation, AI Research Assistant, and ChatBabu, allowing you to create high-quality content with ease. However, this plan does have a word limit of 25,000 per month, priced at just $15 per month.
Monthly cost: $15
Annual cost: $144
Solo Paraphrasing Tool
With the Solo Paraphrasing Tool plan, you'll only have access to its paraphrasing tool with all of its paraphrasing modes. Moreover, you'll have access to AI Research Assistant, and ChatBabu as well.
Monthly cost: $7
Annual cost: $60
All-in-one Bundle Tool
If you're looking for more features and greater flexibility, consider upgrading to our All-in-one Bundle Plan. For just $20 per month or $16 per month with the yearly option, you'll get unlimited access to a range of writing tools, including Paraphrasing Tool and Plagiarism Checker, in addition to our powerful Text Generation and AI Research Assistant tools. Plus, with a word limit of 50,000 per month, you'll have even more freedom to create outstanding content at scale.
Monthly cost: $20
Annual cost: $192
Whether you choose the Solo Text Generation Plan, Paraphrasing Plan, or the All-in-one Bundle Tool Plan, you'll have access to an array of powerful writing tools designed to help you produce exceptional content quickly and easily.
What You'll Love About Paraphrasingtool.ai?
With several months of experience with this tool, I'm confident in sharing our insights on its features. You'll enjoy using this AI tool to make writing easy for you.
Abundance of AI Tools
One feature that'll truly catch your attention is the plethora of AI tools offered by Paraphrasingtool.ai. There are countless options to choose from, so let's highlight a few of them.
Blog Outline Generator
Blog Outline Generator efficiently creates outlines for your blog posts, providing you the flexibility to either proceed with writing on your own or allow the tool to complete the content for you.
Story Generator
Why struggle with writer's block when Paraphrasingtool.ai can create stories for you? This story generator feature is especially useful for those experiencing a creative rut.
Blog Post Idea Generator
Its blog idea generator suggests topics and ideas for your blog posts based on your preferences and interests.
It is a great way to overcome writer's block and come up with fresh and exciting ideas for your blog.
Essay Generator
The essay generator uses AI algorithms to generate essays on any topic automatically.
With this tool, you can save time and effort by creating high-quality academic content quickly and easily.
ChatBabu
ChatBabu is an AI-powered chatbot that uses natural language processing to answer research-related questions.
It is a great alternative to traditional search engines and can save you time by providing quick and relevant answers to your queries.
AI Research Assistant
An AI research assistant uses machine learning algorithms to assist researchers in their work. Its built-in features help you with tasks such as paraphrasing, summarizing, and translating the text into different languages to make your work easier. With the help of an AI research assistant, researchers can save time and focus on more critical aspects of their work.
Get 100% unique content
With Paraphrasingtool.ai, you'll receive completely original and plagiarism-free content that's optimized for SEO. This tool creates engaging, interesting, and informative content that is similar to that of human writers, and it does it faster than a professional writer!
More than just a content creation tool
Paraphrasingtool.ai offers more than just writing and content creation tool. The Chrome extension is a time-saver for those who struggle with fine-tuning their work, eliminating the need to switch between tabs when rewriting content.
The AI content detector is another standout feature, allowing you to ensure the originality of your work without any failure. If it detects your content as AI-generated copy, don't worry.
Paraphrasingtool.ai has got you covered here as well. It has an AI content bypass tool that modifies the sections of your content without reworking entire segments and makes it more like a human-written tone.
Paraphrasingtool.ai also includes grammar, spelling, and proofreading tools, eliminating the need to go to another website to check for errors in content.
What you may not like in Paraphrasingtool.ai?
While Paraphrasingtool.ai is an excellent tool for creating original and high-quality content, there are a few drawbacks that you may encounter. Here are some potential issues to keep in mind:
You need to subscribe to the premium version to access the article generator feature. This may be frustrating for those who want to try out the tool before committing to a subscription.
While Paraphrasingtool.ai can produce content that is comparable to what a human writer would produce, it's not always perfect.
Sometimes the tone may come across as overly technical or lack the natural flow of a human writer's work. In such cases, additional editing may be required to achieve the desired tone and style.
Simply put, Paraphrasingtool.ai is a highly effective tool for generating high-quality content quickly, but you should be aware of these potential limitations and adjust your expectations accordingly. With proper usage and editing, however, this tool can be an invaluable asset for content creators and writers.
The future of AI content creation
As an experienced content writer, I have seen the emergence of AI-based writing software like Paraphrasingtool.ai and wondered about the future of content creation in the digital world.
However, I believe that human-generated content will not be completely replaced by any AI software in the near future. Google has already released updates to its SEO algorithm in 2023 that target computer-generated content.
The focus is now on creating unique content that offers a new perspective and avoids recycling information from other sites.
Google is now emphasizing a people-first strategy, rather than creating content for search engines. The search engine is now asking content creators to ensure that their content clearly demonstrates first-hand expertise and depth of knowledge, leaves readers feeling satisfied, and helps them achieve their goals.
For AI-based writing software to replace human content writers, they must improve their ability to gather, read, understand, and offer personal insights into information.
While Paraphrasingtool.ai and other top-of-the-line competitors offer high-quality AI writing, human review is still necessary to ensure the content is optimized for SEO purposes.